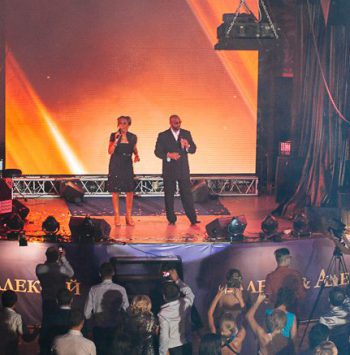 As many of you may have already noticed, there are 2 different Ottawan bands performing these days. You would often find articles online about one of the bands being original and the other one being a tribute. There are multiple "Official Ottawan" pages on social networks and even more websites.
One well known company based in Russia even reserved the rights to use the name "Ottawan" for a certain period of time. And this company does not miss an opportunity to remind other promoters and booking agents, that the name "Ottawan" can only be used with their permission.
You will hear discussions about who the original soloist really is and who has the rights to perform under that name. The Russian version of Wikipedia states one thing, the English version of the same website contradicts however.
But where does the truth lie? There are founders of the band, producers Daniek Vangarde and Jean Kluger. Unfortunately at this very moment these people are not particularly interested in the band, as they have already got back their investment and keep receiving payments as the true rights holders. They do not pay attention however to what goes on inside the band.
Some people say that whoever was on the cover of the cassette or the CD, would be the original Ottawan. Some on the other hand believe that whoever was seen in the video would be the original member of the band. Maybe it is the one whose voice is in the recording, or perhaps the one who has all the necessary paperwork. There really are as many opinions, as there are people, each to their own.
But would it make sense to actually ask the producers who they think should be called Ottawan and own the rights to perform under that name. Because as we all know there are many teams of bands like Boney M, Gipsy Kings, Baccara etc. And only the producer of these bands can reveal the truth.
As a conclusion in search for the answer we can only state that the producers are the only ones to decide who to pass on the rights to and who is the one to perform the songs under the name of Ottawan.